Biodegradable Films Industry
At the recent World Sales Meeting, Cortec introduced a revolutionary breakthrough in fully biodegradable, plastic film packaging that provides a durable exterior for general wrapping, shipping and short term storing applications. The new EcoFilmTM and Eco-Corr(r) film are 100% biodegradable and compostable. Unlike conventional non-degradable packaging, the new biofilms provide a natural disposable method of packaging. They will not contaminate natural ecosystems and degrade in outdoor, landfill and compost conditions into harmless carbon and water molecules.

The eco-conscious biopackaging protects against product damage with excellent barrier properties to oxygen, water, and oil. EcoFilmTM and Eco-Corr(r) film have a 36% greater impact strength over high performance polyolefins. They are twice as strong as conventional films such as LDPE and LLDPE. The films are available in stock 36" and 48" single wound sheets at a 2 mil thickness. Before use, when sealed in their own packaging, the films have a one year shelf life. Once removed and put to use, the films last up to 12 months before they begin to breakdown. When incinerated, they have approximately half the heat combustion and produce less than 2/3 the carbon dioxide compared to conventional polyolefins. When submerged in water they can degrade in three months. When composted, they can degrade in as little as four weeks.

EcoFilmTM and Eco-Corr(r) film have been tested to be environmentally and application sound with no adverse affects on plant life or living organisms. Eco-Corr(r) film was created using Cortec's VCI corrosion inhibiting technology and biodegradable materials. This not only gives Eco-Corr(r) high strength but protects metals from corrosion. There is no environmentally damaging production waste or transport of toxic substances in the process of manufacturing EcoFilmTM. Unlike plastic film made from polyolefins, the low impact EcoFilmTM eliminates harmful residual effects to the environment.

EcoFilmTM and Eco-Corr(r) can actually be used as a fertilizer. Both EcoFilmTM and Eco-Corr(r) film have passed the biostandard ASTM 5338 for degradation in a compost. EcoFilmTM is America's answer for export shipments to Europe and Japan, which have decreasing landfill areas and are now shipping non-biodegradable packaging back to the US, at the supplier's expense, and the environment's.

Practicing "green tech chemistry", Cortec reduces generations of bio-accumulative substances through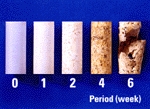 the design and manufacture of new "green chemicals" for safer, environmentally friendly solutions for industrial, home office and home use. This was evidenced recently by the addition of VCI chemistry to EcoFilmTM, thus creating the world's first VCI biodegradable film that can protect metals, engines and machinery from corrosion during transport and storage. Eco-Corr(r) film is the only film that includes VCI chemistry. Eco-Corr(r) received a U.S. and European patent and will be entered in several packaging contests, where it is anticipated to do very well.

Cortec leads traditional markets with products that offer an eco-conscious impact on the environment. According to the EPA, " Pollution prevention is both good business and good for business." Proactive packaging alternatives such as EcoFilmTM and Eco-Corr(r) film eliminate costly waste disposal for manufacturers and foster sustainable contaminate free communities and Zero Waste Programs. Committed to making everyone's eco-protected future a reality, Cortec's contributions to preserving the environment through expanded research and development of ecologically friendly alternatives supports a growing movement of "green tech" manufacturers.