Boris Receives Top Award Ernst & Young Names Boris Miksic Master Entrepreneur of the Year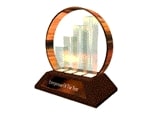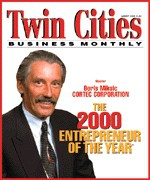 On June 21st Boris was presented the Entrepreneur of The Year award by Ernst and Young. Miksic was recognized as the Master Entrepreneur category winner at the 12th annual Minnesota and Dakotas Entrepreneur of the Year awards. This award honors individuals who have achieved outstanding business results through the application of effective leadership principles. The recipients were selected for their individual leadership styles that build organizations characterized not only by high performance but also by ethics, integrity, and high trust. The award was presented to Boris at the Minneapolis Hilton hotel where over 600 guests and executives, representing some of America's leading companies, attended the ceremony.
Boris said, "This award recognizes the accomplishments of all Cortec employees whom I have the pleasure to work with every day." He continued, "It also supports our mission to create, develop and promote low environmental impact products that our company has championed." And, "We are committed to being on the technological forefront, in order to ensure that we continue to lead the industry in corrosion control technologies."

This fall Boris will compete in the national Entrepreneur of the Year at the Ernst & Young EOY International Conference awards gala in Palm Springs, California, November 9-12, 2000.