Extinguishes Aerosol Blow Torch Technology
In the early 1950's aerosol technology brought new, innovative ways to apply products like hair spray, dust removers, and rust preventatives. In the industrial world, aerosol sprays made application convenient and helped to eliminate oily rags and dirty squirt cans. Whether it was hair spray or rust preventive, the handy Zippo lighter or simple match a fiery and dangerous blowtorch.

Aerosol technology seemed like a good thing, despite its potential blow torch delivery, strong odor and environmental hazards. The best of today's technology has gone far beyond what our fathers and mothers used. Cortec(r) Corporation has developed new, safe rust preventives with the same handy convenience of traditional aerosol sprays. Without the drawbacks of aerosol technology, the new EcoAir EcoAir(tm) VCI-377 product also provides three times better rust protection.

EcoAir(tm) VCI-377 replaces flammable aerosols. It removes the potential fire hazard with a water-based, biodegradable formulation that acts like a fire extinguisher in the presence of a flame. In fact, the product doesn't have enough "fire" power to even print "combustible" on its labeling. VCI-377 is a non-flammable formulation that can be stored anywhere and shipped safely by air. Traditional oil based flammable products require explosion proof handling for both shipping and storage.

The secret of EcoAir(tm) VCI-377 comes from its unique EcoAir(tm) delivery system. Using a special EcoPouch(r) the liquid spray is powered by compressed air. It allows the new, hi-tech formulas of today's technology to solve old rust problems and take care of safety, health and environmental concerns. Cortec's EcoAir(tm) VCI-377 is an environmental innovation. In addition to being water-based and biodegradable, the entire product including the can is recyclable. Instead of filling the air with harsh chemicals that can make breathing difficult, its mild odor is hardly noticeable.

Cortec's VCI patented technology delivers corrosion protection for hard-to-reach areas such as cavities and voids. Rather than a messy, oily residue, it dries to a thin, clear, film which requires no removal, no clean up, or hazardous disposal. By providing short and long term protection for both ferrous and non-ferrous metals, EcoAir(tm) VCI-377 allows users to work with one rust preventative coating for all their protection needs.
EcoAirTM VCI-377 Fire Extinguisher


EcoAir VCI-377 is
non-flammable and water-based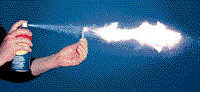 Leading aerosols are
flammable and solvent-based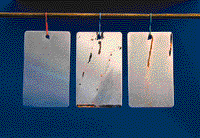 Photo compares the rust protection of a leading aerosol rust preventive to Cortec(r) EcoAir(tm) VCI-377. The steel quality control panel treated with conventional rust preventive corroded in only 1 day in the humidity chamber. The steel quality control panel treated with EcoAir(tm) VCI-377 remained rust free after two weeks.