New VpCI® Safe-T-Charges - It Makes Adding Chemicals a Breeze
For years you have known how well Cortec's powdered cleaner, VpCI(tm)-417 and VpCI(tm)-418, and rust remover, VpCI(tm)-426 powder, work in your customers' processes. Now you can offer these products in their new, patented, water soluble bags.
How many times have you had a customer who needs to add powdered cleaners or rust removers to one of their process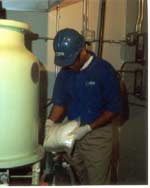 tanks, only to find that they lost their special scoop, or slipped and powder scattered everywhere?
What a mess. Do you ever wish that you could offer an easy, safe way to add powder cleaners and rust removers with out the hassle of finding a scale to weigh out specific dosages?
If your customers have ever been in any of these situations they need to give Cortec's new Safe-T-Charge powder dosing system a try.
Safe-T-Charges make adding chemicals a snap. They come in 1, 5 and 10 pound sizes, so all one needs to do is throw the combination of bags in that equals the desired dosage size. If 7 pounds are needed, simply grab a 5-pound and two 1-pound bags and drop them in the tank. No measuring, no mess. Even better, Safe-T-Charges allow one to handle cleaners without touching them.