Corrosion Solutions for the Growing Wind Energy Market
March 16, 2021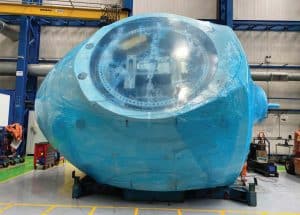 With increasing interest in renewables fueling the growth of the wind energy sector, an expanding market awaits      the protection of Cortec® corrosion solutions. Manufacturers need ways to ensure new wind turbine components, rings, hubs, yaws, blades, bearings, and sensitive electronics are delivered corrosion-free to their installation site. After installation, many sensitive wind turbine electronics, control panels, switchgears, sensors, and associated transformers stand to benefit from protection against premature repair or failure-especially when operating in a corrosive offshore environment. While there are many protective options, the following basics are a great place to start!
At the manufacturing site:
•Clean metal surfaces with VpCI®-415 before packaging.
•Apply CorShield® VpCI®-368 D and CorShield® VpCI®-369 to rings, blades, etc. where a rust preventative coating is needed.
•Place Desicorr® NW VpCI® Pouches into void spaces before shipment.
•Shrink wrap metal components in VpCI®-126 HP UV Shrink Film or MilCorr® VpCI® Shrink Film.
•Package electronics in VpCI®-125 Bags.
On the field:
•Insert VpCI®-111 Emitters into control panels.
•Spray electrical panels, open wiring, etc., with ElectriCorr™ VpCI®-239.
•Apply Cortec® Coatings to vulnerable base bolts.
A little protection can go a long way toward ensuring successful delivery and extending the service life of critical wind turbine components. Get ready to implement these and other corrosion solutions as the wind energy market expands, and don't hesitate to contact us with any questions! https://www.cortecvci.com/contact-us/
For a PDF version please click here.