Get Help Choosing the Right Cleaner/Degreaser with Our Tech Service Product Line Guide!
April 8, 2021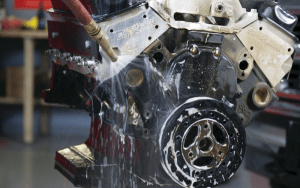 Have you ever wanted to use one of Cortec's flashrust inhibiting cleaners/degreasers but weren't sure which one to select? It can be confusing to hear about VpCI®-414 one day—and then find out the next day that you can also choose from VpCI®-415, VpCI®-416, VpCI®-418 LM, and many others! How do you know which one is the best choice and what the key differences are?
Cortec® Technical Services offers a handy reference guide to help you make an informed decision on which Cortec® cleaner/degreaser to use for your application. The guide lists twelve different products and their characteristics. Users can tell at a glance which cleaners are non-foaming, low-foaming, or high-foaming, and which ones offer shorter or longer flash rust protection. The guide recommends a target application for each cleaner—whether general purpose (light) cleaning, heavy-duty cleaning, parts washers, or ultrasonic parts washers. A final column in the product line guide highlights special features such as "bio-based," "phosphorus free," "best flash rust protection," and "best spray cleaner for aluminum."
This guide is a great way to familiarize yourself with the nuances of individual Cortec® cleaners so you and your clients can choose the best option for your application. Contact Cortec® Technical Services to get your copy today! https://www.cortecvci.com/contact-us/
For a PDF version please click here.