Handy New Info Sheet Makes It Easy to Share Cortec® MRO Solutions!
October 14, 2020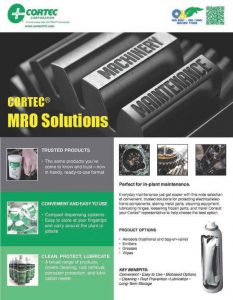 If you ever wonder what the best way is to introduce Cortec® solutions for in-plant maintenance, repair, and operations (MRO), look no farther! Cortec's MRO Solutions info sheet is a handy new resource that gives a brief but comprehensive overview of practical ways to make everyday maintenance easier.
This one-page info sheet highlights the convenience of Cortec's trusted technology, available in compact dispensing systems to store at your fingertips or carry around the jobsite. These products cover a broad range of cleaning, rust removal, corrosion protection, and lubrication needs. Some are even biobased. They also come in a variety of formats: traditional aerosols and EcoAir® spray cans, emitters, greases, and wipes!
Cortec® MRO Solutions are great for protecting electrical/electronic components, storing metal parts, cleaning equipment, lubricating hinges, loosening frozen parts, and more! Take a look at the new resource here, and be sure to share it with your friends in the maintenance industry: https://www.cortecvci.com/whats_new/announcements/MRO_Solution_Sell_Sheet_03-2020.pdf.
For a PDF version please click here.