New Quick Guide to EcoLine® Greases Makes It Easy to Switch to Biobased Lubrication!
February 11, 2021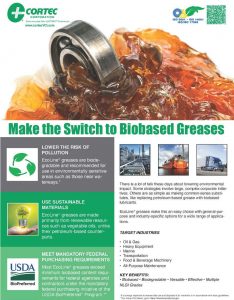 We are excited to introduce a new quick guide to our line of EcoLine® biobased greases! If you are looking for ways to "go green" or launch an environmental initiative at your company, this is a great place to start.
Rather than getting hung up on large, complex programs that may take years to implement, our quick guide to EcoLine® greases points out how much easier it is to take simple, common-sense steps like replacing petroleum-based greases with biobased lubricants. It shares three key reasons to do so:
• Lower the risk of pollution
• Use sustainable materials
• Meet mandatory federal purchasing requirements
The back of the info sheet displays a handy selection guide to the many choices available. It identifies NLGI grade, percentage of biobased content, special features, and target applications for each EcoLine® grease. It includes options for food manufacturing equipment, drill rods, semi-truck fifth wheels, rail curves, wire ropes, and heavy-duty applications with NLGI GC-LB specifications.
This is a great resource for anyone who works with maintenance teams, federal agencies and contractors under biobased purchasing requirements, or companies in general looking for simple green initiatives to improve their environmental footprint.
Read and share the new guide to EcoLine® biobased greases for yourself at:
https://www.cortecvci.com//whats_new/announcements/Biobased_Grease_Sell_Sheet.pdf
For a PDF version please click here.