New Corrosion Association - The CCIA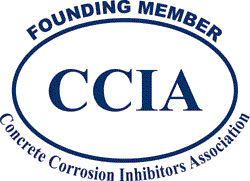 The Concrete Corrosion Inhibitors Association, Inc. (CCIA) has been formed to promote the use and understanding of corrosion inhibitors in concrete. The members of the new association are: Cortec Corp., Master Builders, Inc., Grace Construction Products, AXIM Concrete Technologies, Inc., and Sika Corp.

This new association will develop and provide educational material, and also technical and statistical information. The goal of the CCIA is to encourage the use of corrosion inhibitors in concrete to improve concrete durability in marine applications, parking facilities and the infrastructure. The Association will also explore other avenues, such as by providing support to research and scientific inquiry, involving the use of corrosion inhibitors.

The activities of CCIA will include disseminating literature and field data, promoting the use of a service-life prediction model and supporting efforts to use life-cycling-cost of concrete as the basis for determining the best value. By the use of seminars and the dissemination of user-friendly literature, the CCIA will assist architects, engineers and specifiers to understand the value of corrosion inhibitors.