March 26, 2001 For Immediate Release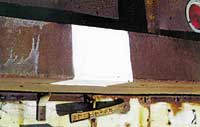 Company Contact:
Anna Vignetti
VP Sales & Marketing
Call toll free, 800-4-CORTEC
info@cortecvci.com

Editorial Contact
Tomas Gardebring
Blue Leopard Inc.
(952) 921-4945
info@cortecvci.com
NEW PRODUCT RELEASE
New Water-based Primer For Rusty Surfaces
Cortec's VCI CorrVerterTM brings environmentally friendly, water-base primers to a new level of convenience and cost savings. The new primer is especially formulated for application over rusty or poorly prepared steel surfaces to stop corrosion while offering an excellent primer for top coating. The product eliminates labor intensive operations for metal prep in maintenance, industrial and marine environments.
When applied, the two-in-one combination rust converter and paint primer actually penetrates rust. It goes down to the bare metal and converts rust to into a passive layer. As the rust is converted, VCI CorrVerterTM forms a high solid, water-borne latex coating. This tough coating provides low water vapor permeability to protect against re-rusting.
Unlike traditional converter/primers, Cortec's VCI CorrVerterTM has a very low VOC. It is non-flammable, non-combustible, and non-toxic which allows its application in a variety of environments with greater ease and safety. Because VCI CorrVerterTM does not contain phosphoric or tannic acid normally found in traditional converter/primers, it allows the user to choose from the greatest variety of top coatings including oil, solvent, water-based, latex, acrylic, urethanes and epoxies.
VCI CorrVerterTM can be used in situations where proper cleaning or sandblasting is difficult. When possible, the user simply removes any loose rust with a wire brush and then cleans the surface high pressure water spray. This simple surface preparation method is especially advantageous for salt-water marine applications where proper surface preparation is difficult or not possible. In very hard-to-reach areas, simply wash off excess salt from the steel surfaces with a high pressure water spray.
For application, the metal surface can be dry or damp. VCI CorrVerterTM is then easily applied by brush, roll or spray. After air drying for 8 to 12 hours, a top coat can be applied.
Photo: High resolution photo tif of Cortec VCI CorrVerterTM is available. Please contact Tomas Gardebring at Blue Leopard, info@cortecvci.com .
Company Description: Cortec® Corporation, a pioneer in Vapor Corrosion Inhibition technology, is located in White Bear Lake, Minnesota. Cortec manufactures a variety of corrosion inhibiting and rust-preventive systems based on Vapor Corrosion Inhibition technology.
Cortec Website:www.cortecvci.com. Phone: (651) 429-1100 FAX: (651) 429-1122