Cortec's Metalworking Brochure Takes a Fresh Look at Corrosion Solutions for Metalworkers
May 4, 2021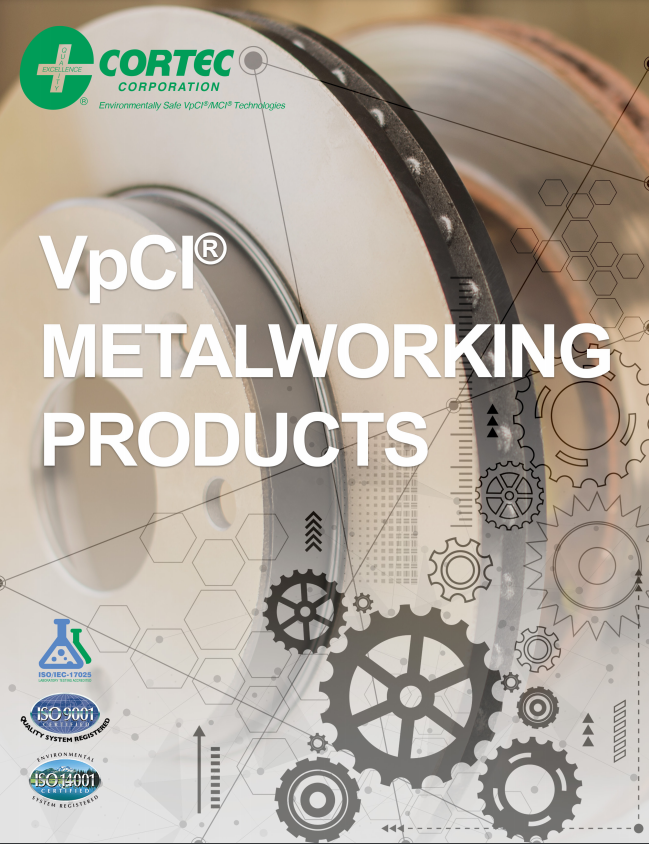 Cortec® Corporation has recently overhauled its "VpCI® Metalworking Products" brochure to provide a fresh look at corrosion solutions in the metalworking industry! While the brochure offers the same core technology to counter the economic loss from corrosion and rust speckling, it also offers an expanded selection of VpCI® solutions in a format
designed to facilitate easier navigation for potential product users.
As before, the brochure starts by introducing the corrosion problem and the benefits that VpCI® solutions have to offer metalworkers in terms of productivity, investment, and cost reduction. While the economic loss from corrosion can be staggering (e.g., freight costs for returned goods and the cost of re-pickling, reprocessing, or sometimes even scrapping metals degraded by corrosion), the "VpCI® Metalworking Products" brochure provides a variety of fast and economical solutions for protecting internal and external surfaces of multiple metal types in various stages of metalworking, shipping, and storage. Features such as easier product application and removal along with water-based alternatives to conventional rust preventatives contribute to the practical benefits of Cortec® VpCI®.
The new brochure seeks to take a common-sense approach to product selection by rearranging products according to three main categories: Cutting Fluids, Lubricants, and General Purpose Rust Preventatives. While many of the products are multi-purpose and overlap into more than one category, each is grouped according to its primary function for easiest identification of suitable products. These categories are further subdivided according to carrier type:
• Biobased
• Water-Based
• Oil-Based
• Solvent-Based
• 100% Vapor Phase
Each product is briefly described along with a list of features. Several new products not available in the previous metalworking brochure now appear in the lineup. Of special note is the new CorroLogic® Fogging Fluid VpCI®-339, in a class of its own as a 100% Vapor phase Corrosion Inhibitor for preserving metals in void spaces via fogging application. Another new product is VpCI®-330, a rust preventative that leaves an almost invisible coat of oil and can be easily applied using a handheld trigger spray bottle. Several biobased lubricating rust preventatives have also been added—EcoLine® 3220, EcoLine® 3690, and EcoLine® ELP—providing a broader scope of options for environmentally conscious users or federal agencies and contractors who must follow biobased purchasing guidelines under the mandatory federal purchasing initiative of the USDA BioPreferred® Program.*
The brochure concludes with a redesigned product selection guide that provides a quick overview of all options. This helps potential users select the product that may be most suitable for their application based on film coating type (e.g., oily vs. clear dry), coverage rate, length of indoor or outdoor
protection, metals protected, and application method (spray/brush/dip and/or fog). It also identifies ready-to-use products versus concentrates and specifies appropriate cleaning materials for use if product removal is required.
Without proper prevention, corrosion costs can quickly add up over each shift, day, week, month, and year. VpCI® metalworking products are designed to help metalworkers avoid these problems by preempting corrosion attack and preserving the valuable time and resources otherwise consumed by rust. Get ready to tackle these corrosion issues in practical ways by browsing the new "VpCI® Metalworking Products" brochure today:
https://www.cortecvci.com/Publications/Brochures/Metalworking%20Broch.pdf !
*For more information about the BioPreferred® Program, go to http://www.biopreferred.gov.
For a PDF version please click here.