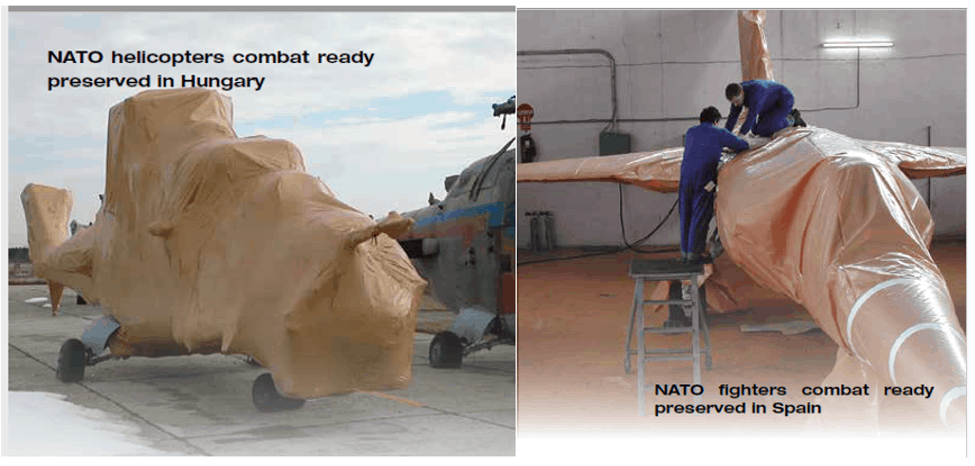 Aircraft protected for long-term storage using Cortec® VpCI® Products
Now, more than ever, companies need to protect their capital assets and WIP-cycle components in this time of uncertainty and unplanned shutdowns. Due to the impact of COVID-19, society must embrace the adage, "Hope for the best. Plan for the worst." Even after this is over, it will take time for the supply and demand sides of the market to synchronize. To ease the process, equipment needs to be protected in such a manner that it can be put back into commission with minimal effort to meet market demand.
Cortec® Corp. is working hard during this crisis to offer help and support across all industry sectors, putting its technical expertise at the disposal of its customers to assist them in the following areas:
Preservation of grounded aircraft
Preservation of materials in inventory
As manufacturing facilities are shutting down and going into a state of forced layup for an indefinite period, keeping these assets corrosion-free is essential to ensuring they can be reinstated and operational as quickly and cost-effectively as possible. Corrosion is a major problem for idle equipment and assets, especially in the presence of moist, salt-laden air or fluctuating humidity that forms condensation on electrical systems, rotating equipment, hydraulics, bolts, valves, and motors, to name a few components. Corrosion results in
Premature equipment failure
Unnecessary and non-budgeted repair and replacement costs
Costly delays in reinstatement of vehicles, plants, and equipment
How Can We Combat This?
Vapor phase Corrosion Inhibitor Technology is designed to protect assets and equipment during shutdown and storage. It is based on the formation of a molecular barrier that protects ferrous and non-ferrous metal surfaces from oxygen and electrolytes, thus breaking the corrosion cycle. Cortec® VpCI® materials provide total corrosion protection to equipment of all types, from small electronic components to large oil and gas module piping internals.
Preservation of a Commercial Aircraft (Jets and Helicopters)
Location
Product
Procedure
Fuselage
VpCI®-415
Wash all external surfaces of the plane with VpCI®-415.
Fuselage, cockpit, galley, toilet, baggage compartments
VpCI®-308 Pouch
Place pouches evenly spaced along the aisle of the aircraft, cockpit, galley, toilet, and baggage compartments. Each pouch protects 35 ft3.
Fuel tanks and fuel system (Jet fuel "A" and "A1")
VpCI®-707
Fog into fuel system at 1 oz./ft3.
Hydraulic systems
M-528, M-531
Add to M-528 to water-soluble PAG hydraulic fluids at 2% or M-531 to non-water-soluble fluids at 2%.
Electronic systems
VpCI®-239, VpCI®-101, VpCI®-105, VpCI®-111
Spray all contacts with VpCI®-239 and install appropriate size emitter: VpCI®-101 (1 ft3), VpCI®-105 (5 ft3), VpCI®-111 (10 ft3).
Engines
VpCI®-337, VpCI®-308 Pouch
Fog flow path with VpCI®-337 at 0.5 oz./ft3 and place VpCI®-308 Pouch inside the air inlet.
Engine linkages
VpCI® Super Penetrant, VpCI®-126 HP UV
Spray all external linkages on the engine with VpCI® Super Penetrant and shrink wrap the engine with VpCI®-126 HP UV.
Landing gear
VpCI®-368D
VpCI®-369D
EcoLine® Biobased Rubber Revitalizer
Spray articulating joints with VpCI®-369D.
Coat all exposed surfaces with VpCI®-368D.
Coat wheels with EcoLine® Biobased Rubber Revitalizer.
Ailerons, wing flaps, stabilizers, elevator, door hinges, and rudder
VpCI®-369D
Spray all moveable joints with VpCI®-369D.
Toilets and holding tanks
ECO-SEPT™
PORTA-TREAT™
Either add ECO-SEPT™ to the toilet or PORTA-TREAT™ to the holding tank.
Gearboxes
M-531
Add M-531 at 5% to gearbox oil.
Bearings
CorrLube™ VpCI® Lithium EP Grease
Apply to bearings and moving parts serviced with a zirc (zerk) fitting.
Airline Approved Products:
Boeing – VpCI®-415 (conforms to Boeing D6-17487, Rev P)
Safran – VpCI®-126
Airbus – VpCI®-126
GE Aerospace, Turkey – CorShield® VpCI®-368 & CorShield® VpCI®-369
GE Aviation, Cheltenham, UK – VpCI®-308
August Westland, Italy – VpCI®-126
Magellan Aerospace, UK – VpCI®-126
Airbus Helicopters, France – Emitters, Cor-Pak® Tablets, VpCI®-126
Airbus Space & Defense – VpCI®-329 (Z20304), VpCI®-126 Blue (Z241CS-CML15-A16), VpCI®-125 (Z241CS-CML15-P11)
Safran – VpCI® foam
Reference Documents:
https://www.cortecvci.com/Publications/Brochures/Aircraf_Brochure.pdf
Certification:
Product
Performance Guideline
QPL Listed
Commercial Equivalent**
NSN/NATO/GSA
Cor-Pak® 1-MUL Pouch
MIL I-22110C
Yes
NSN 6850-01-470-2737
GSA 8030-01-208-1769
Cor-Pak® Tablets*
MIL I-22110C
CorShield® Packaging Fabric
MIL P-58102
Yes
Desicorr®
MIL-D-3464E (1)
Desicorr® VpCI®
MIL-D-3464E (1)
MIL I-22110C
EcoShield®
MIL P-58102
Yes
EcoWeave®
MIL PRF-121G
Yes
MilCorr® Shrink Film
MIL PRF-121G
Yes
VpCI®-101
NSN 6850-01-338-1392
VpCI®-105
MIL I-22110C
Yes
NSN 6850-01-406-2060
VpCI®-110*
MIL I-22110C
Yes
NSN 6850-01-456-2971
VpCI®-111
MIL I-22110C
Yes
NSN 6850-01-408-9025
VpCI®-125
VpCI-126 Blue®
MIL PRF-22019E (1)
Yes
VpCI-126® Shrink
MIL PRF-22019E (1)
QPL 22019-21
VpCI®-130 Series
MIL-PRF-26514G (T 3) (CLS II) (A)
VpCI®-133
MIL-PRF-26514G (T 3(CLS II) (A)
NSN 6850-01-426-3539
VpCI®-144
MIL PRF-3420G
Yes
VpCI®-146*
MIL PRF-3420G
Yes
VpCI®-150/170
MIL-PRF-26514G (T 3) (CLS II) (A)
NSN 8030-01-208-1769
NATO 8030-00-244-1299
ElectriCorr® VpCI®-238
NSN 6850-01-413-9361
VpCI®-307
MIL I-22110C
VpCI®-308
MIL I-22110C
VpCI®-322
MIL PRF-46002C
Yes
VpCI®-323
MIL PRF-46002C
MIL I-85062 (Additives to Oils)
Yes
Yes
VpCI®-325
MIL PRF-16173E (3)
NSN 6850-01-517-1652
VpCI®-326
MIL PRF-46002C
MIL I-85062 (Additives to Oil)
Yes
Yes
NSN 6850-01-470-3358
NATO 6850-66-132-6100
VpCI®-327
MIL C-15074E
Yes
VpCI®-329
MIL PRF-46002(1)
MIL I-85062 (Additives to Oil)
Yes
Yes
NSN 6850-01-470-3359
NATO 6850-66-132-6100
VpCI®-347
NATO 6850-66-132-6101
NATO 6850-66-132-6102
NSN 6850-01-470-2740
VpCI®-368
MIL PRF-16173E (Grade 1)
Yes
NSN 8030-00-062-6950
NSN 8030-00-231-2345
NSN 8030-00-244-1300
NSN 8030-01-470-2601
NATO 6850-66-132-5848
NATO 6850-66-132-6099
VpCI®-368M
MIL PRF-16173E (Grade 1)
QPL 4620-1535(1)
NSN 8030-01-430-4898
VpCI®-369
MIL PRF-16173E (Grade 2)
Yes
NSN 8030-00-244-1297
NSN 8030-00-244-1295
NSN 8030-01-149-1731
VpCI®-369M
MIL PRF-16173E (Grade 2)
QPL 4620-1535(2)
NSN 8030-00-244-1298
NSN 8030-01-149-1731
VpCI®-373
NSN 8010-01-470-2739
VpCI®-377
NSN 8010-01-502-9727
VpCI®-379
NSN 8030-01-481-8928
VpCI®-386 Water Based Acrylic
NSN 8030-01-481-8897
VpCI®-388
NSN 8030-01-481-8898
VpCI®-415
MIL PRF-87937D Type IV BOEING D6-17487 Rev P
Douglas CSD-1
AMS-1526B
QPL AFPET/PTPT 09-004
Pending
Pending
Pending
VpCI®-422
NSN 6850-01-482-4534
VpCI®-423
NSN 6850-01-482-4536
VpCI®-426 Rust Remover
NSN 6850-01-477-4155
VpCI®-560***Powder
MIL-I-22110C
Yes
NSN 6850-01-470-2738