Use Of VpCIs (Vapor Phase Corrosion Inhibitors) for the Protection of Fire Water Systems
Use Of VpCIs (Vapor Phase Corrosion Inhibitors)
for the Protection of Fire Water Systems
Ashish Gandhi
Cortec Corporation
4119 White Bear Parkway,
St. Paul, MN 55110
651-407-2770
ashish_gandhi@cortecvci.com
www.cortecvci.com
Abstract
An evaluation of corrosion protection properties of vapor corrosion inhibitors for fire water systems protection was performed. Two common environments are found in such applications:
Dry systems
Wet systems with water
Three-phase protection ability of VpCI allows them to be effective in the conditions present in such systems. Corrosion tests were carried out depicting the above conditions in the laboratory. This paper provides lab data obtained from such testing and an actual field usage with a discussion on the results.
Introduction
Corrosion is one of the problems facing the fire sprinkler system industry. In past years the corrosion mechanisms have led to pinhole leaks in both wet and dry sprinkler system piping. While Microbiologically Induced Corrosion (MIC) is definitely one of the concerns, this paper is devoted primarily to general and pitting corrosion.
Following are the types of fire sprinkler systems found in the market:
Wet Pipe system: These are the most common systems and are used in the buildings where there is no risk of freezing. Wet systems are required for high-rise buildings and for life safety1.
Alternate system: As the name suggests Alternate systems can have the pipes full of water for the summer and be drained and filled with air under pressure for the winter. This is in use in the buildings that are not heated1.
Dry Pipe system: In such systems, the pipes are filled with air under pressure and the water is held back by the control valve. When a sprinkler head opens, the drop in air pressure opens the valve and water flows into the pipe work and onto the fire. These systems are used where the wet or the alternate systems cannot be used1.
Deluge systems: These systems are used in special cases for industrial risks, e.g. offshore oilrigs.
problem
Commercial and industrial property insurer FM Global has identified problems in some fire sprinklers including leakage and related encrustation and corrosion that could prevent the sprinklers from operating as designed in the event of a fire. This inspection followed a number of reports of leakage caused by corrosion in sprinklers. Each problem was identified visually by the building owners2. Quite often, a leak in the fire protection system is the only means of discovering internal corrosion problems.
Recent laboratory testing by Underwriters Laboratories Inc. (UL) on dry sprinklers taken from field installations indicates that exposure of these sprinklers to harsh environmental conditions over an extended period of time may cause the sprinkler not to operate under certain fire conditions3. In the dry systems the problems are not detected until the system does not perform when required in the case of fires or until that time when inspection of the system is carried out.
Use of Vapor Phase Corrosion Inhibitors
Use of vapor phase corrosion inhibitors (VpCIs) as a treatment program for the protection of ferrous and non-ferrous alloys was developed and evaluated in the laboratory. This treatment program can be classified as the ambiodic type inhibition, i.e., it shows inhibition at cathodic and anodic sites. These treatment programs provide a three-phase corrosion protection:
in water phase,
in interphase between water and air, and
in the air/vapor phase.
Vapor phase Corrosion Inhibitors (VpCIs) are safe to use and they provide a low environmental impact solution for preventing corrosion in fire water system. Knowing the capabilities and limitations of this new generation of VpCIs was a good starting point.
Following criteria need to be met for a particular treatment program to work for the application of corrosion protection in fire sprinkler systems:
Inhibitor needs to prevent corrosion of the systems predominantly manufactured from ferrous metals.
Inhibitor needs to prevent corrosion of the systems that were made up of non-ferrous alloys.
Low environmental impact.
Low toxicity and skin irritability in case of contact with humans.
Experimental
For this purpose two different volatile corrosion inhibitors identified as VpCI A and VpCI B were evaluated.
VpCI A made of amine carboxylates was used in the corrosion and toxicity tests. VpCI A was identified for dry and/or wet systems involving ferrous metallurgy.
VpCI B is made of a blend of amine carboxylates, and triazole chemistry. It was evaluated for corrosion and skin irritability test. VpCI B was identified for dry and/or wet systems involving non-ferrous alloys.
Corrosion Testing
Vapor Inhibiting Ability (VIA) test method4. This test was developed to rapidly assess the protection offered by VCI compounds. Products evaluated by this test can be powders, liquids or packaging materials such as papers or plastic films. The test consists of placing a freshly polished carbon steel specimen in a 1-liter glass jar. The jar contains a measured amount of water blended with glycerin to control the relative humidity. A control sample is made of a jar containing only a steel specimen, while a test sample comprises of a jar with a steel specimen along with the VpCI source (powder, liquid or packaging product). The VpCI source never comes in contact with the metal specimen. After a conditioning period during which the VpCI vapors are allowed to migrate from the source to the metallic specimens, the jars are placed in an oven set at an elevated temperature for a few hours. Once this time has elapsed, the jars are placed at ambient temperature. The metal specimen is rapidly cooled leading to condensation due to the humid atmosphere. Effective VpCI compounds provides protection in this environment, while the control specimen corrodes heavily. VpCI A was evaluated with this method.
Immersion and half-immersion Corrosion Testing. Corrosion tests were performed on immersed and half-immersed carbon steel and copper panels5 at room temperature and 50oC. Carbon steel panels were from cold rolled steel, ASTM C1010 provided by the Q Panel Company, ground on both sides. Copper panels (CDA110), provided by Metaspec Co., were sanded with 320-grit sandpaper. The panels and working electrodes were washed with methanol prior to testing. VpCI B was evaluated with this method.
Environmental and Toxicity Aspects
Due to stricter environmental regulations, cost effectiveness aspects and other factors various industries e.g. car manufacturers are switching to VpCI technology. Extended testing was carried out to validate the use of VpCI technology by such concerns.
In addition, the discharge of chemicals used as corrosion inhibitors in a marine environment such, as the North Sea oilfields, has been under an ever-increasing scrutiny due to potential impact on aquatic life. Once the chemicals are disposed of in the sea, there are concerns that some of them will persist and will have a detrimental effect on the environment. These compounds may be toxic to marine life, have a low level of biodegradability or may bioaccumulate in living organisms. The Paris Commission (PARCOM) developed a protocol consisting of three tests: bioaccumulation, biodegradation and toxicity. VpCI A was used to evaluate these conditions.
VpCI B was used in skin irritability studies. This is important in the event of a fire when the treated water from the sprinklers might come in contact with the humans. The test was designed to determine the dermal irritation potential of VpCI B on the shaved skin of a rabbit as required by regulation of medical device biocompatibility.
results
Laboratory Corrosion Test Results
The results of the vapor phase corrosion test for VpCI A and corrosion tests for VpCI B are shown in the Table 1 and Table 2, respectively. The control plug had heavy corrosion, while plugs placed in the presence of VpCI A had no signs of corrosion. The test samples were run in triplicate. The appearance of the plugs at the completion of the test is displayed in Figure 1.
Toxicity Testing
Bioaccumulation. The measured value of the logarithm of the partition coefficient, log Pow, is reported in Table 3. Its value is below zero indicating the unlikeness of bioaccumulation.
Biodegradability. The 28-day Biochemical Oxygen Demand value for VpCI A is reported in Figure 2. VCI A started to degrade quite rapidly. It was 10% decomposed in less than two days. At Day 7, it was 76% degraded. It was fully decomposed at Day 27. Ten days after the start of the degradation, the level of biodegradation was above 60%, indicating that VpCI A could be classified as a rapidly degradable substance.
VpCI A was compared to sodium benzoate, which is used as a corrosion inhibitor. It is also a carboxylic salt. VpCI A fully biodegraded as its BOD-28 value reached 100%, while the BOD value for sodium benzoate leveled off at 80%.
Aquatic toxicity. Tables 4, 5, and 6 reflect results of different aquatic toxicity tests. The results in each of these tests fall within the acceptable limits.
Skin irritability. Table 7 reflects the results from the skin irritability tests done by an independent laboratory.
DISCUSSION
The above results show that both VpCI A and VpCI B provide protection against corrosion while being fairly harmless to the environment and safe to the skin in the event of an accidental contact, respectively.
The VIA test is a method of determining the effectiveness of a volatile corrosion inhibitor. Following the conditioning period, VpCI A was able to protect a steel specimen in a moisture-condensing environment. The VIA test proves that VpCI A is capable of reaching the metal surface via sublimation, since the source never came in contact with the steel plug.
The value of the partition coefficients, Pow, shows that VpCI A has a very low potential to bioaccumulate in aquatic organisms. This means that it is highly unlikely that VpCI A would have toxic effects on aquatic life over long time spans. This is an important benefit as there are applications where corrosion inhibitors are discharged in marine environments. Another factor that proves harmlessness of VpCI A to the environment is its quick biodegradability. VpCI A is fully decomposed in less than 28 days. Substances that rapidly biodegrade can be quickly removed from the environment and hence their effect on marine environment is very limited.
OECD 306 refers to several levels of acute and chronic toxicity. In the case of algae or other aquatic plants, the upper limit for acute toxicity measured as 72 EC50 is 100 mg/L. According to the test results, the 72 EC50 for VpCI A is 240 mg/l. This indicates that VpCI A is not classified as an acute toxicant per the criteria defined in the test guideline.
In addition the log Pow for VpCI A is less than zero. Furthermore, VpCI A is a substance that rapidly biodegrades. Therefore, with a 72 EC50 above 100 mg/L, VpCI A is not classified as a chronic toxicant.
Similar statements may be made in regards to the crustacean and sediment reworker test results.
From the results of skin irritability test at a working concentration of 0.4% of VpCI B, the 'Primary Irritation Index' was 0. From Table 8 we can see that this results indicates that VpCI B falls under a negligible response category.
In 1995 the Norwegian Pollution Control Authority (SFT) implemented the OSPAR Harmonized Offshore Chemical Notification Format (HOCNF) to document environmental properties of chemicals used in offshore applications. The HOCNF format contains data on toxicity, biodegradation and bioaccumulation of chemicals. The SFT issues discharge permits to oil companies operating in the North Sea. They also require that the operators gradually and systematically replace chemicals that have detrimental effects on the environment with environmentally friendly products6.
FIELD CORROSION TESTING
A large oil and gas producing company operates several offshore and onshore installations. In the past the deluge or fire water systems have had serious corrosion problems and nozzle blockages. A unique method developed by the applicator involved using 5 % by mass VpCI A concentrate solution as a corrosion inhibitor. A 19-mm pre-drilled plug was fitted at the junction where the pipe-work terminates. After inserting a fogging nozzle it was connected to compressed air. Airflow is established and then a measured amount of VpCI A concentrate is introduced into amplified air stream. After verifying wet fog emission through the sprinkler nozzle assures proper application. This method of protection led to a decrease of blocked nozzles by about 97.6% within the first year and 98.8% by two years. Corrosion problems were reduced dramatically over the span of two to three years with the use of VpCI A.
CONCLUSIONS
While in the past vapor phase corrosion inhibitors were used only for a few specific applications due to their toxic nature and inability to protect multi metal systems11, the new generation of VpCIs overcomes these shortcomings. VpCI compounds provide effective corrosion protection while offering several other benefits including environmental soundness and cost effectiveness.
A new generation of VpCIs has been developed to address the toxicity concerns that we face in our battle to improve the environment we live in. Corrosion and toxicity testing demonstrated that these new compounds not only provide excellent corrosion protection, but also have very low toxicity. Skin irritability testing also proves that these compounds are safe for accidental human contacts. All these features make VpCIs a viable alternative for corrosion protection in Fire Sprinkler systems.
ACKNOWLEDGEMENTS
The author acknowledges the assistance of Allan Durham, Corrosion Solutions Limited, Aberdeen, UK, in providing the field work information.
REFRENCES
British Automatic Sprinkler Association web site at www.basa.org.uk.
News release-February 8th, 2000 F M Global web site at www.fmglobal.com
News release-January 22nd, 1999, Underwriters Laboratories, Inc.
Federal Test Method Standard No. 101C, Method 4031 (1980)
ASTM G 31-72 "Standard Practice for Laboratory Immersion Corrosion Testing of Metals"
C. Chandler "Biodegradable Volatile Corrosion Inhibitors," 9th European Symposium on Corrosion Inhibitors (9 SEIC), Ann. Univ. Ferrara, N.S., Suppl. N., Italy, September, 2000.
ISO 10993-10: 1995 Standard, "Biological Evaluation of Medical Devices, Part 10-Tests for Irritation and Sensitization" pp. 3-5
16 CFR, Part 1500.41, Method of Testing Primary Irritant Substances, Revised Jan. 1, 1997
Marzulli, F. N., Maibach, H. I, Dermatotoxicology 4th Edition, pp. 201-208, Hemisphere Publishing Corp. New York, NY, 1991
U.S. EPA — Office of Prevention, Pesticides and Toxic Substances (OPPTS), Health Effects Test Guidelines, OPPTS 870.1200 Acute Dermal Toxicity
Miksic, B. A., Volatile Corrosion Inhibitors Find a New Home, Material Engineering Forum, 1997.
Table 1
VpCI A — VIA test results
| | |
| --- | --- |
| Sample | Results |
| Control | Fails |
| VpCI A | Passes |
table 2
full-immersed and half-immersed results for vci b
Time before corrosion (days)

Metal

Ambient Temperature

50oC

Carbon Steel

40+

40+

Carbon Steel*

40+

20+

Copper

60+

60+
* Half immersed test results
TABLE 3
VpCI A — BIOACCUMULATION RESULTS (LOG POW)
| | | |
| --- | --- | --- |
| Test Method | Limit | Result |
| OECD 117 log Pow | <3 | <0 |
TABLE 4
VpCI A — Toxicity to Primary Producers
| | | |
| --- | --- | --- |
| | Exposure time, Hours | Effect Concentration (mg/L) |
| EC50 | 72 | 240 |
| EC90 | 72 | 680 |
| No observed effect concentration | 72 | 32 |
TABLE 5
VpCI A — Toxicity to Consumers
| | | |
| --- | --- | --- |
| | Exposure time, Hours | Effect Concentration (mg/L) |
| LC50 | 48 | 100 |
| LC90 | 48 | 220 |
| No observed effect concentration | 48 | 32 |
TABLE 6
VpCI A — Toxicity to Sediment Reworkers
| | | |
| --- | --- | --- |
| | Exposure time, Hours | Effect Concentration (mg/kg) |
| LC50 | 240 | 1410 |
| LC90 | 240 | 2800 |
| No observed effect concentration | 240 | 1014 |
table 7
VpCI B -Results of skin irritability test
Rabbit #

24 hours

48 hours

72 hours

Sum of

Observation

Left side

Right side

Left side

Right side

Left side

Right side

14

0

0

0

0

0

0

0

22

0

0

0

0

0

0

0

23

0

0

0

0

0

0

0
Table 7 continued
Total PI scorePrimary Irritation Index (PII)

(Total/3)

0

0

0

0

0
PI = Primary Irritation Score
TABLE 8
primary irritation response categories in the rabbit
| | |
| --- | --- |
| Response Category | Comparative Men Score (PII) |
| Negligible | 0 to 0.4 |
| Slight | 0.5 to 1.9 |
| Moderate | 2 to 4.9 |
| Severe | 5 to 8 |
Note: The Primary Irritation Index (PII) is determined by adding the Primary Irritation Score for each animal and dividing the total score by the number of animals7-10.
figure 1
via steel plugs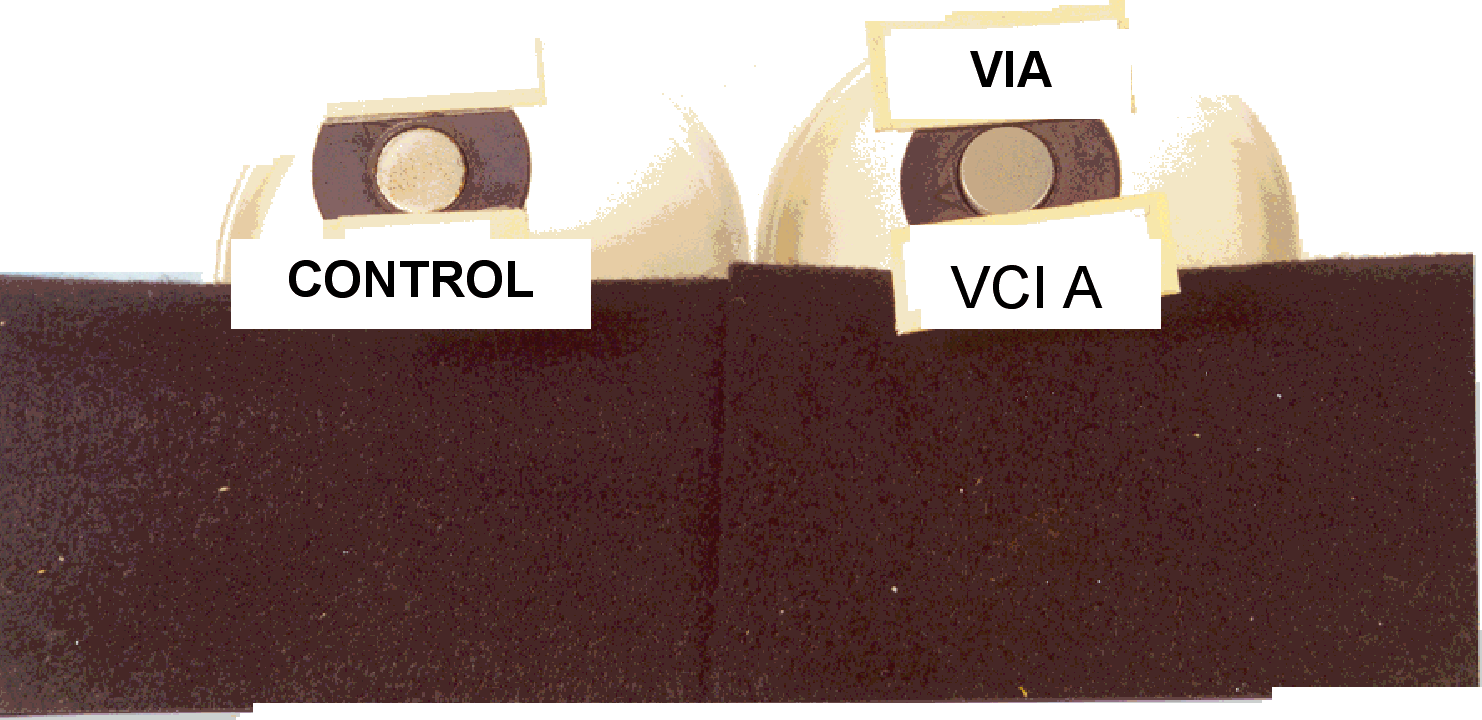 FIGURE 2
VCI A — Aerobic Biodegradability