Unleash the Power of EN-Z-KLEAN™ on Greasy Laundry!
February 10, 2021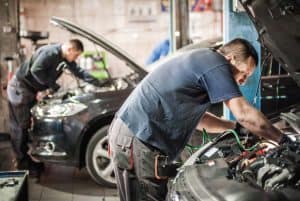 Commercial laundering can be a tough job, especially when it involves linens and uniforms heavily soaked and stained with oils or greases from the food service and automotive industries. The good news is that Bionetix® EN-Z-KLEAN™ has what it takes to tackle these tough stains: the power of enzymes!
The enzymes in EN-Z-KLEAN™ are specially designed to target and digest fat and oil residues, making it perfect for laundry plagued by hard-to-remove greases. EN-Z-KLEAN™ enzymes offer outstanding cleaning and stain removal power at any temperature up to 65 °C (149 °F). Even better, this detergent power comes from ingredients that are biodegradable, phosphate-free, sulfate-free, septic safe, and friendly to the environment.
EN-Z-KLEAN™ is ideal for industrial and commercial laundering operations where cleaning concentrates are preferred. For normal washes, EN-Z-KLEAN™ can be diluted 1:9 with water. Heavy grease should be treated at a 1:4 dilution of EN-Z-KLEAN™. For pretreatment of the toughest stains, apply a 5x dilution of EN-Z-KLEAN™ directly to the stain and allow to soak before washing.
If you know anyone in the commercial laundry industry—especially those who work with automotive or food service linens and uniforms—be sure to let them know about the "green" cleaning ability of EN-Z-KLEAN™ thanks to the natural power of enzymes!
Learn more about EN-Z-KLEAN™ here:
http://www.bionetix-international.com/products-2/en-z-klean/
For a PDF version please click here.