Being a Good Global Citizen Building the Future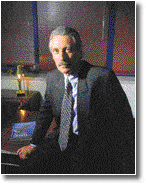 By Boris Miksic
The world is getting smaller. This clichè has never been truer. Twenty years ago, the United States was by far the world's leader in technological entrepreneurship. Today, entrepreneurship is becoming a global commodity. Never has the world seen as much International trade and competition for global markets. This trend will continue to accelerate. It will become even faster and tougher. For Cortec, this means that we must continue to improve and expand our efforts at developing technologies, and putting them to work around the world. Our on-going vision is to offer products that are effective, reduce waste and energy needs, and have low impact on the environment. Our corporate health and prosperity will depend upon this. It also means that we must continue to find new ways of disseminating our environmentally safe VpCI® solutions. For most of our new prospects, this will mean new answers for old corrosion questions.
The emerging field of industrial ecology focuses on how the ideas and methods of low environmental impact technologies can be applied in industry, infrastructure, public operations, and the military. Cortec has been there from the start. We know that we have moved beyond the generally perceived conflict between industrial development and environmental protection. We have designed systematic approaches that are relevant for all aspects of the industrial ecosystem: manufacturing, service, repair, maintenance, packaging, government operations and military functioning. We have worked relentlessly to commercialize new safe VpCI® process technologies and develop new value-added VpCI® products. Our innovative capabilities in developing chemical product technologies range from advanced films and applications to air powered aerosols to water-electronic chemicals.
Our global mission is to benefit our distributors through the development and deployment of economically valuable environmental science and technology. We pride ourselves on a long history of recognized leadership with both government agencies and industry. We value and are constantly building our long term relationships with our distributors by anticipating their needs and delivering distinctive, high-value, technology-based solutions. It's these distributor relationships that will make us better world citizens.
For instance, evidence of what we have already done can be found on our web sites. The dramatic increase of our web site traffic in recent months demonstrates how effectively we have addressed the relevant product information for the expanding global marketplace. Our on-line case studies can help prove how Cortec's integrated application solutions can enhance the end-user's competitive advantage. We designed our web sites to help you be there first, with the right solution for the application.
We are committed to build our future with you. In the next several months, you will see us developing strategic relationships with new web partners, such as Vertical Net and Corrosion Source. We will continue our expansion of our International web sites, which will provide customers and prospects information in their native tongue. We will be offering all of our training material electronically on CD-ROMs. We promise you solutions that are the culmination of world-class science, innovative technologies and market insight. Let's build our global future together!