Cortec® Helps Industries Reduce VOCs by Switching from Solvent-Based to Water-Based Coatings
December 3, 2019
Many users do not like the smell or health hazards associated with solvent-based coatings, which tend to have a higher VOC (volatile organic content) than their water-based counterparts. Fortunately for users needing corrosion protection, many of Cortec's most popular VpCI® coatings are water-based options with low VOC. Favorites like CorrVerter® Rust Converting Primer or VpCI®-391 Water Based Temporary Coating have less than 0.4 lbs/gal (50 g/L) of VOC. Cortec's popular VpCI®-386 and VpCI®-395 permanent coatings also have low VOC ranges of 0.6 lbs/gal (72 g/L) and 0.2 lbs/gal (24 g/L), respectively.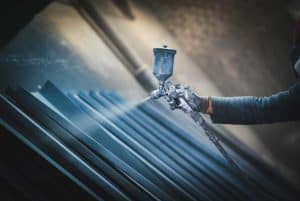 One real-life example of the benefits of replacing a solvent-based coating with a water-based VpCI® coating is the story of a refrigerator coil manufacturer. Workers at the plant did not like the strong smell of an underperforming solvent-based coating used to coat the coils. By implementing VpCI®-386 in a dip tank application, the manufacturer reduced VOCs while also improving corrosion protection and the workers' safety environment.
Using water-based coatings is an excellent and simple way to make similar improvements in countless industrial applications. Explore your options at the Cortec® Coatings website or contact Cortec® for guidance on a specific project.
For a PDF version please click here.