Materials Performance Highlights Cortec® Safety Milestone
November 25, 2019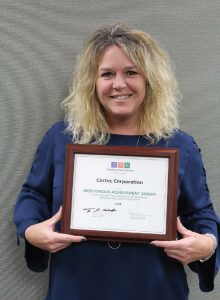 Cortec® was honored to not only reach a major safety milestone this year, but also to have that milestone recognized by NACE International's Materials Performance magazine, a leading resource keeping professionals informed on news, research, and developments in the corrosion control industry.
The magazine recently announced Cortec's receipt of the Minnesota Meritorious Achievement Award in occupational safety at its White Bear Lake, Minnesota, facility. This award goes to applicants based on several years of injury data compared with national industry statistics, as well as Cortec's progress in implementing a comprehensive safety program. The award is a major accomplishment for Cortec® and captures the importance of Cortec's safety culture in bringing VpCI®/MCI® corrosion solutions to customers.
View the Materials Performance article at: https://www.cortecvci.com/whats_new/announcements/MP_Sept2019.pdf
For a PDF version please click here.