After Expansion, Cortec's European Subsidiary Continues Successful Year: CorteCros® Successfully Passes audits for two ISO Management Systems and Receives Highest Rate Credit Ratings!
November 9, 2021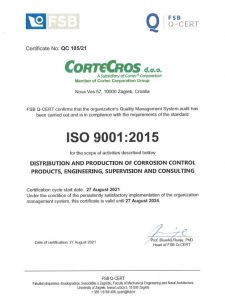 We are happy to announce, that company CorteCros®, a member of the Cortec® Corporation group, located in Croatia, successfully passed audits for two ISO management systems: ISO 9001:2015 and ISO 14001:2015. The FSB Q-CERT accreditation organization confirmed CorteCros® compliance with the ISO 9001 Quality Management System standard and renewed its certification. For the first time FSB Q-CERT also awarded CorteCros® with ISO 14001:2015 Environmental Management System certification, valid until 2024. The company also received a 2021 Certificate of Creditworthiness Excellence this summer from Company Wall credit rating agency, achieving the highest rating possible: AA+. These official certificates are awarded to companies which meet strict economic and financial criteria and are given with the purpose of helping legal entities improve their business by identifying and connecting with desirable new clients. The awards serve as an important indication of the stability of CorteCros® as an excellent business partner. This is especially exciting given the recent purchase of the new facility in coastal town of Split, Croatia and expansion of company's capacities. Quality and environmental responsibility have both been important values to Cortec® from its inception. With the recent growth and developments of Cortec's subsidiary in Croatia, it is especially important to have certification in these areas. 
CorteCros® recently acquired a facility building in Split from CROSCO d.o.o., subsidiary of INA, a Croatian multinational oil company. The company is now the 100 percent owner of the logistics and distribution center in Split, which has recently expanded its production facility and storage capacity. Split is now Europe's main production and distribution point for Cortec's corrosion protection chemistries. In addition to manufacturing and testing,
CorteCros® provides integrated solutions and full technical support for Cortec's products and services. Newly equipped ASTM and ISO certified
laboratory is also located in the logistics center in Split. All products are registered according to the REACH standard. CorteCros® also offers a wide
range of biotechnology solutions from Cortec's Canadian subsidiary, Bionetix® International, which uses a variety of microorganisms and nutrients to create biological products used in thousands of field applications worldwide. 
Patented VpCI® Technologies licensed under Cortec® Corporation are some of the most widely used and renowned corrosion protection products in the world. Cortec® Corporation has 10 locations around the globe with headquarters in St. Paul, MN. The company is supplying three continents—Europe, Asia and USA—from its facilities in Croatia. Capacities in Croatia include EcoCortec's anticorrosion films and bioplastics plant located at the east of the country, CorteCros's logistics and production center and sales offices in Croatia's capital, Zagreb. CorteCros® team worked really hard to achieve these important milestones for quality, environmental, and credit management.
Need a High-Resolution Photo? Visit: www.cortecadvertising.com.
For a PDF version please click here.
Request More Information from Cortec